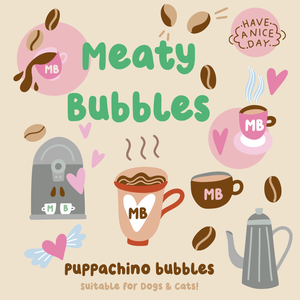 150ml bottle of super fun bubbles!

Made in the UK

These bubbles are also an excellent way to provide mental stimulation and physical activity for your pet, helping to promote overall health and wellness. So go ahead, make playtime even more fun for your furry friend with these flavoured pet-friendly Meaty bubbles™️.
This recipe is non-toxic and VEGAN FRIENDLY, Gluten Free and Halal Safe!

Ready to use with included bubble wand or in a bubble machine.

Avoid contact in eyes.

If irritation occurs, discontinue use.

Pets love Puppuchinos & bubbles… what's not to love!
Ingredients: Sodium Lauryl, Ether sulphate (SLES), Cocamidopropyl betaine, water, artificial flavours