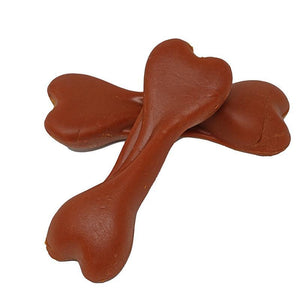 Pumpkin & Carrot Bones - Sold Individually
Size 10cm x 4cm Weight 46g    Calories 115 kcal - Can be broken in half for smaller pups!
Benefits
Palm Oil free
Gluten-free 
Grain-free vegan based dog snack
Rawhide-free & Meat-free dog chew
Grain-free
Sugar-free
Low in Fat
Helps Reduce Plaque
Aids Digestion
Hypoallergenic
Gentle on dog's stomachs
Hypoallergenic
100% Vegan Ingredients
-----------------------
Composition Sweet Potato Flour, Pea Flour, Vegetable Glycerin, Dried Brewers Yeast, Calcium Carbonate, Vegetable Oil, Dried Carrot 2%, Dried Pumpkin 2%. Dried Paprika 1.5%. Preservatives: Potassium Sorbate 0.1%
-----------------------
Analysis Moisture 13.5%, Crude Ash 4.7%, Crude Fibre 1.2%, Protein 5.26%, Fat Content 2.5%
-----------------------
Benefits of the ingredients
- Sweet potatoes are great for digestive health because they're high in dietary fibre. They're also low in fat and contain vitamin B6, vitamin C, and manganese. Also, a sweet flavour they'll love.
- Peas are amongst the healthiest veg for your dog. A great source of
vitamins A, B, & K. Packed with iron, zinc, potassium, and magnesium. Rich in protein, high in fibre.
- Brewer's yeast is rich in antioxidants which can make your dog's skin healthier and coat shinier.
- Calcium Carbonate is added to pet food as a source of calcium, which is an essential mineral for dogs.
- Pumpkin is packed with Nutrients that benefit the overall well being of your dog.
- Carrots are rich in beta-carotene and Vitamin A.
-----------------------
This listing is for a single carrot + pumpkin bone - to reduce our single use plastic we purchase treats in bulk and bag up in paper bags when orders are placed. BB: 20/12/24