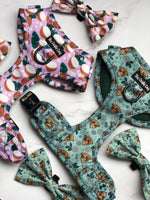 NEW COLLECTIONS!
Introducing The Crafty Cow & Coconutty!

Available in:
Harness sizes XXS-L
Collar sizes XS-M
Lead
PBH
Bow Tie
Lead Splitter
Seat Belt Restraint
Adventure Bag Strap

PLUS our popular Harness, Lead + PBH Bundle is just £40 with FREE UK shipping!
What is new at Crafty?
The Crafty Cow + Coconutty Harness Collections - Harness, Lead, PBH, Collar, Bow Tie, Adventure Bag Strap, Splitter + Seatbelt!

Treats Restocked: JR 80g + 200g Pates, JR Sticks, Ostrich Dino Bones + Meaty Bubbles!
UPDATES
SHIPPING OFFER: £1.49 Second Class Shipping when you spend £30! (UK only)

Handmade items are are currently at approximately a 5-7 working day turn around.
Ready to ship items are dispatching in 1-3 working days.

Those with ready to ship and handmade are dispatched in line with the handmade lead time.

International mail can be 3-5 weeks depending on destination
Last updated - 01/08/2023
Have you seen these new toys?