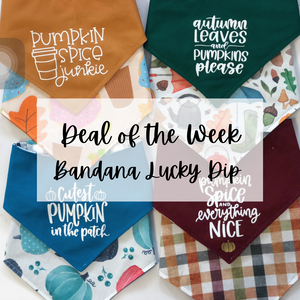 Each week we will offer a deal of the week! This could be anything from treats, to collars to poop bags. The deals will be limited in quantity due to the special price!
This week we have:

1x Reversible Bandana Lucky Dip. RRP if bought separately - £12.99-£13.99 - Deal price £10!

Grab this weeks whilst stocks last!
Our bandanas can be reversed in a matter of seconds for busy pups in need of an outfit change on the go!
Made with cotton fabrics
With 3 poppers on the neck strap to get the best fit for your pupper.
Please check your dogs measurements against our size guide before purchase.
These bandanas will ship out in 1-3 working days.
This is a true lucky dip from all designs in our Summer, Autumn & Halloween collections. Just select Girls or Boys and your pups size and we will do the rest!

If you already have some of our bandanas from these collections leave a note at checkout and we will do our best to give you one you do not have. If you are after a specific one this will need to be purchased from the listings on the website.
Sizes
Small 12 to 15 inches with a 5 inch drop. Small bandanas have 3 poppers to adjust to your puppers neck size.
Medium 14 to 18 inches with a 5.5 inch drop. Medium bandanas have 3 poppers to adjust to your puppers neck size 
Large 18 to 22inches 6 inch drop. Large bandanas have 3 poppers to adjust to your puppers neck size.  
If you need help with sizing please email us - hello@thecraftydogco.com 

Due to repeats in patterns, we cannot guarantee it will be identical to the one photographed, but we will ensure that you get the best repeat we can.
Washing - please dab marks and stains or hand wash with mild soap.
Safety - Please do not leave your dog unattended whilst wearing one of our accessories. No accessory is indestructible and we are unable to accept any liability for injuries occurring whilst wearing our pupwear. It is your responsibility to check the item before each use to ensure it is safe and suitable for use.