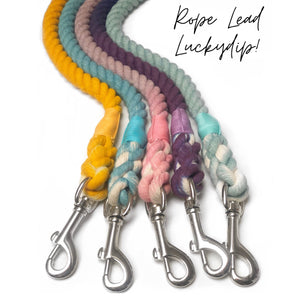 Each week we will offer a deal of the week! This could be anything from treats, to collars to poop bags. The deals will be limited in quantity due to the special price!
This week we have:

1x Lucky Dip Rope Lead!
Grab this weeks whilst stocks last!




Can't decide which rope to get? Then leave it up to us and grab a bargain!  
Made with 100% cotton rope 1/2" thick.
Hand dyed and spliced, the ends are whipped to add strength and durability
Approximately 150 cm long including handle and clip.
Silver metal clip to attach to the harness
O ring in the handle to attach one of our poop bag holders, your keys or the other end of the leash to wear whilst out on walks
This is a true lucky dip and rope will be chosen at random from all of the ropes on the website! You can choose whether you would like a boys or a girls rope and if you order multiple ropes in the same order we will make sure that they are each different.
Looking after your rope:
We would recommend hand washing only with mild soap and cold water
We would not recommend rough play in our ropes or wearing them in salt water and/or muddy areas 
Safety
No accessory is indestructible and we are unable to accept any liability for injuries occurring whilst wearing our pupwear.