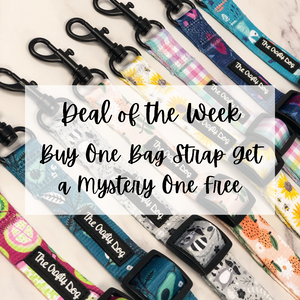 Each week we will offer a deal of the week! This could be anything from treats, to collars to poop bags. The deals will be limited in quantity due to the special price!
This week we have:

Buy One Bag Strap Get A Mystery One FREE. RRP if bought separately - £20 - Deal price £10!
Select your chosen bag strap from the options in the drop down menu.
The Mystery Free Adventure Bag strap will be chosen at random from:
- Winter Bloom
- Seas The Day
- Orange Blossom
- Raccoon Bloom
- Kiwi Kisses
- Avo Good Day
- Picnic Plaid
- Sunpower

If you already have some of our bag straps please make a note at check out and we will do our best to provide one you do not have. However due to limited stock and designs we cannot guarantee this.
If you want specific designs you will need to buy them individually from our Adventure Bags page.

Grab this weeks whilst stocks last!