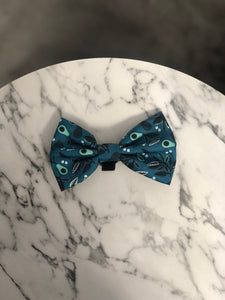 Welcome "Avo Good Day" bow tie to the pack:
With velcro fastenings they can be added to any outfit in a matter of seconds for stylish pups on the go.

Add to your favourite collar, back of your harness or on the front D ring of our new adjustable vest harnesses!

One Size - at widest points approx 12cm x 7.5cm
Please note pattern placement will vary between each Bow Tie and colours of designs can vary between materials.
Looking after your Bow Tie:
We would recommend hand washing with mild soap and cold water or on a cool gentle spin in the machine.
For tough mud or stains, we would suggest using a pre wash product before popping in the machine or hand washing.  
Safety
No accessory is indestructible and we are unable to accept any liability for injuries occurring whilst wearing our pupwear. Please check your item regularly for signs of wear and it is the owners responsibility to ensure accessory is suitable for the pup.