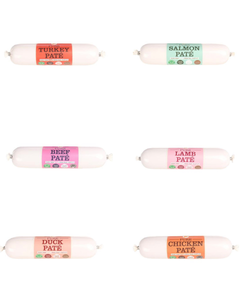 To Celebrate our First Birthday on August 31st, we have made lots of your favourite Deals Of The Week from the past few months available to purchase all at once!

5x Packets of JR Pure Pate. RRP if bought separately - £14.95 - Deal price £10!

JR's Pure Pates are simply irresistible:-
They are made from 100% fresh meat (single source protein) – no offal!
Made from the same human grade meat as the irresistible pure sticks and training treats
Unique firm 'paté like' texture ideal for stuffing kongs/toys but firm enough to cut into cubes
Perfect for using as a topper for both kibble and raw fed dogs
Great as a training treat
Grain and gluten free – no additives, no preservatives… nothing!
If you need specific flavours due to intolerances you will need to buy them separately from our treats page as we will select 5 flavours at random that we have in stock at time of packing.
Grab this weeks whilst stocks last!