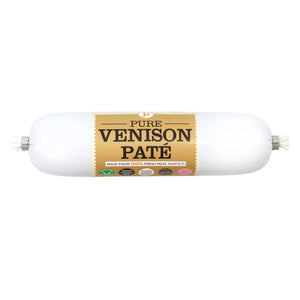 JR's 100% natural Pure Venison Pate for dogs are not only a delicious treat but they're healthy too. Ideal for dogs of all breeds and sizes, they're a great source of protein and are perfect for training.
Deliciously tasty and natural, the Pure Venison Pate for dogs is not only healthy, but totally irresistible too. Made from 100% fresh Venison, these sumptuous pate are also grain and gluten free.
JR's Pure Venison Pate is simply irresistible:-
They are made from 100% fresh meat (single source protein) – no offal!
Made from the same human grade meat as our irresistible pure sticks and training treats
Unique firm 'paté like' texture ideal for stuffing kongs/toys but firm enough to cut into cubes
Perfect for using as a topper for both kibble and raw fed dogs
Great as a training treat
Grain and gluten free – no preservatives… nothing!
More varieties and sizes coming soon
Suitable for puppies over 4 weeks
Key advantages of these great honest and guilt-free treats include:-
100% natural
Easy to digest
Grain and gluten free
Naturally low in fat
High in protein
Hypoallergenic
No preservatives
Healthy and nutritious
Pure Venison Pate, 100% natural dog Pate with no preservatives, simply the finest cuts of fresh meat…that's it!



100% Venison Meat…. That's it!
Analytical Constituents
Protein 10.9% Fat 14.2% Moisture 64.4% Ash 2.2% Vitamin A: 4400 IU/Kgr Vitamin D: 300 IU/Kgr Vitamin E: 48 mgr/Kgr Feeding Guide - Dogs weight : grams per 24 hours 5-10kg : ± 250g 10-20kg : ± 400g 20-25kg : ± 500g 25-35kg : ± 750g 35-40kg : ± 950g