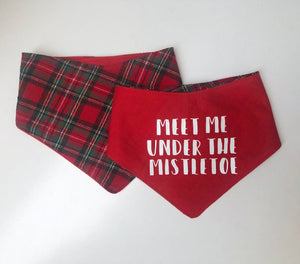 Welcome the "Meet Me Under The Mistletoe" reversible dog bandana to the pack:
We all want value for money so why not choose our Meet Me Under The Mistletoe reversible bandana and get two for the price of one!
Made with red Tartan fabric on one side and vinyl on the reverse.
Our bandanas can be reversed in a matter of seconds for busy pups in need of an outfit change on the go!
Made with cotton fabrics
Either 2 or 3 poppers on the neck strap to get the best fit for your pupper.
Please check your dogs measurements against our size guide before purchase.
Each bandana is handmade and ready to ship.
Why not personalise your Bandana with your pups name? Click Here to add your pups name!
Sizes
Small/Medium 11 to 15 inches with a  5.5inch drop. S/M bandanas have 2 poppers to adjust to your puppers neck size.
Medium/Large 15 to 22inches 6.5inch drop. M/L bandanas have 3 poppers to adjust to your puppers neck size.
Washing - please dab marks and stains or wash on a cool gentle spin.
No accessory is indestructible and we are unable to accept any liability for injuries occurring whilst wearing our pupwear.