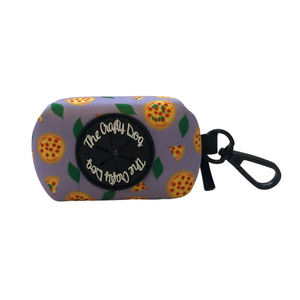 Out with the old and in with the new poop bag holders on the block!
Includes a FREE roll of poop bags!
Room for  a roll of poop bags as well as some change or some treats whilst out with your pupper
Made from lightweight neoprene material
Black metal hardware for attaching to Leash
Size: 7cm x 5cm
Please note pattern placement will vary between each Poop Bag Holder and colours of designs can vary between materials.
Looking after your Poop Bag Holder:
We would recommend hand washing with mild soap and cold water or on a cool gentle spin in the machine.
For tough mud or stains, we would suggest using a pre wash product before popping in the machine or hand washing.  
Safety
No accessory is indestructible and we are unable to accept any liability for injuries occurring whilst wearing our pupwear. Please check your item regularly for signs of wear and it is the owners responsibility to ensure accessory is suitable for the pup.